Welcome to the Boules in Gwent League
Presentation Evening
The 2023 presentation evening will be held at Ponthir Village Hall on Saturday 11th November.
More details to follow.
Chairman's Season Summary 2023
This week, the last of the league season, a lot of teams were keen to see how they had faired. Unfortunatey there was a hiccup in publishing the results but they are now out for you all to see. In the past Robin has given his Report on these results and, as he is now retired, I will try to do something similar.
There were a number of surprises on the last day. In division one, Caerleon Blues, who had led since week 5, managed to increase their lead by a few more points over Caerleon A who had won this division for the past five years. Ffrwd Fighters made a late charge to get third place. The next seven places were only separated by 7 points!
In division two, there was a big surprise with Ffrwd Bears overtaking Greenlawn A, who had led from the start of the season, on the last day! The next three teams all had the same number of points with Caerleon Cohorts taking the honours, although they will be disappointed at not taking their chance to come second.
In division three, Ffrwd Wolves also came from behind to pip Abergavenny Reds as division winners, with the same number of points but having lost one less game.
In division four, Panteg Steelers lived up to their name, and stole the division, almost having a clean sheet, not losing a game, and only losing six points all season. With ten in the division, their point score (66) is probably a league record. Although a few points behind, the Ffrwd Vikings completed an excellent season for the pub with promotion secured for their teams from divisions 2, 3 and 4.
On Saturday, the cup and plate finals will be held at the Greyhound from 10:30 am.
It is hoped to run the Champion of Champions. Derek is looking into this and will send out information to teams involved. It is to be arranged for the Sunday 1st October at Panteg House.
Finally, thank you for replying to the message that went out about the presentation evening and it will take place at Ponthir Hall at 7 pm on Saturday 11th November.
There will be a hog roast, entertainment and of course the end of season presentations.
We have not got a price as yet as it depends on numbers (so far 70+). This event is subsidised with your contributions to joining the league, so please take advantage of this end of season fun get together. We now need clarification of all clubs commitment with your numbers. This will be a new list so please all reply to DEREK regardless of your previous replies - not to myself nor Basil.
Shun
League Results
The final 2023 league tables are now available.
Each week, the home team should send in the results as soon as possible after the match is complete.
Results to the league secretary, Basil White:
e-mail: robbwhite50@gmail.com; text to 07905 567094.
Henry Powell Cup
Arrangements for the finals at the Greyhound on September 9th are given on Cup & Plate 2023.
Open competitions
Annual BIG v WPA on Saturday 5th August 2023
BIG win at Panteg House 27-22.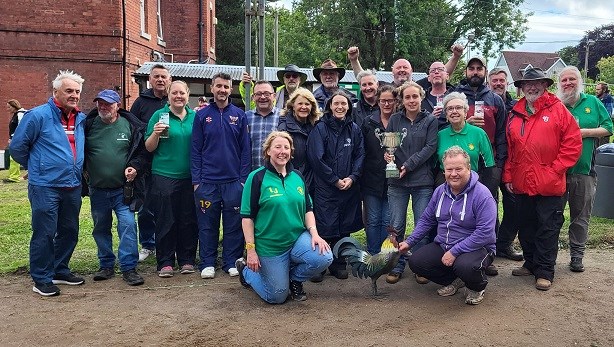 The Big News page provides news items and club events.
Send notification of a club boules event you are holding and it will go on the News page.
The Links page provides addresses for clubs that have websites.
If your club has a site but is not on the list, please let us know the address.